Our Facility
"A Dream Come True"
Welcome to The Factory
The Perfect "Action Sports Gym Membership"

The Factory Action Sports Facility focuses around 1 main principle; We are dedicated to providing a year round, membership based, 24 hour indoor facility to the action sports community throughout the Twin Cities and beyond. Here are some interesting facts about our facility:

The Factory includes but is not limited to indoor Mountain Bike riding, Freestyle BMX Bike riding, Scooter riding, and Youth Strider Balance Bikes. Skateboards may even make an appearance on occasion.
Our Facility is a Destination: Members and Families of all ages drive from all directions of the Twin Cities, Saint Cloud, Duluth, even long distance members from Fargo, Iowa, and Wisconsin.
The Features we create are all world-class, and our staff that leads and maintains the facility are all experienced professionals, who are also a part of X Games Minneapolis at US Bank Stadium.
The Factory is also known as a training facility, where riders can safely learn how to ride and jump with padding landings and a foam pit.
Lesson are available with the Pros, Group Rates, and Birthday Party Packages are also available.
Bikes and Helmets are available for rental, all provided by The House Bike & Ski Shop.
All Participants must check in when arriving, have an active membership & signed annual waiver (parent if under 18), and be wearing a helmet at all times when using our facility. Non-Members have limited times when they can come test out our facility before deciding to become a member.
Feeling Intimidated? Our owners and members are known to be some of the friendliest, and most welcoming and inviting people in action sports. We look forward to welcoming you into our home.
Our Pricing is structured to drive annual memberships that help sustain our facility long term. All new members will receive a one time welcome kit including our Facility Rules, Park Etiquette, Emergency Situations, and a Free T-Shirt!
The Factory uses a remote door locking system that can be controlled via bluetooth on your phone, as well as indoor and outdoor 24 Hour Security Cameras with Face-Recognition to monitor the safety of our members and our facility.
Our community drives us more than anything… Sharing smiles, dropping jaws, and opening eyes in more ways than ever. Mixing our talent with motivational messages, and working with many amazing partners have led to experiences we never imagined would be possible, including raising more than $15,000 for Minnesota Special Olympics!
In 2020 we will be introducing Bouldering Rock Climbing, complete with a brand new exercise & stretching area.
Our co-founder, Dustin Grice, is a local professional bike rider, and has performed at the Minnesota State Fair for nearly 20 years. He appeared in the opening and closing shots of Explore Minnesota's Super Bowl TV Commercial, and joined the Minnesota Vikings for an "X Games" Themed Half Time Show at US Bank Stadium. However in the "Real-World", Dustin is a local graduate of Hennepin Technical College, and now a current staff member of theirs that has re-connected full circle with their Web & Graphic Design Department.
---
Photos of Our Facility
---
What Happens When You Arrive?
Members (24 Hours)
Members use our "Member Check In Wall"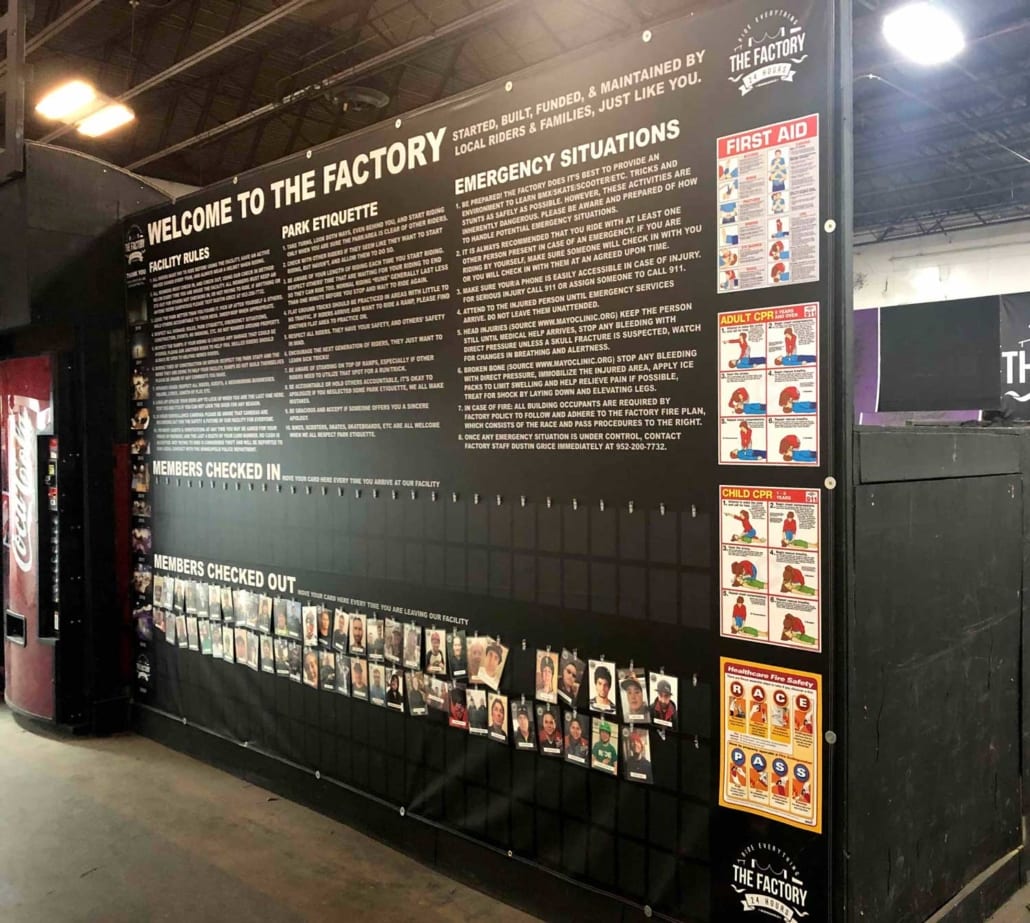 Non-Members (Limited Hours)
Non-Members use our "Non-Member Check In Station"
---
History of The Factory
"In January of 2011, only a few of us walked alone into a very small and completely empty warehouse space in Northeast Minneapolis with one idea in mind, to simply ride our bikes together in our own hobby facility at the convenience of our own time, family, and work schedules. Over the years this turned into a movement that has become absolutely infectious… Families, kids, and riders of all ages. We ride. We learn. We build. We fall. We encourage. We motivate. We get back up. We focus. We try again. We work together. We perform. We innovate. We're not scared to try something new & we never give up. We've created lifelong friendships, and lifelong memories. The goals, the achievements, the experiences, and the opportunities that have evolved around The Factory and our traveling Mega Jump stunt shows have changed our lives and will live with us forever. It's just amazing to think about what we have all created together because of action sports. Words will never describe how grateful we are for your continued support. To every member and every rider & parent who has ever join us for a session, and every event who has supported us over the years, Thank You. The Factory truly is an unexpected Dream Come True."
-Dustin Grice, Co-Founder
Great Things Take Great Time…
Take a look at what our local community has accomplished over the years…
2019
As Low As $79/Month
Introduced Progressive Discounts for Year Round Members, Recurring Loyal Member Discounts, Bulk Payment Discounts, Annual Membership Sale Day, Refer-a-Friend Free Month of Riding Program, Free Passes & Discount Passes for Friends, Long Distance Discount, Industry Discount, Military Discount…
See All New Pricing
2020
We're fully prepared!
And we'd love to see you join us for the ride…